Shopkins Shoppies is a movie released by Universal Studios and Pixel Zoo Animation. It runs 92 minutes long.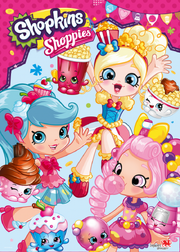 Plot
It begins in a rundown town. In a small shop, two elements (Rainbows and a bouquet of daisy flowers) sit on the floor. Suddenly, they start to wiggle.Then a light lit up around them and shaped into a humanoid shape.Then, the light fades and reveals Daisy Petals and Rainbow Kate. Suddenly, Rainbow Kate finds out that this is the first day of her life, and hovers around the room leaving behind a trail of glitter Then, she runs up to the shop's owner and Rainbow Kate asks what they are made of. He rips off her arm and replies the Shoppies are made of rubber and cartilage.Then, he puts it back.Then, Rainbow Kate approaches Daisy Petals and leaves the shop. There were more Shoppies being created outside, and they all run after the two protagonists. They grab some construction materials and "glam up the town".Then, they come up with a name for the town, and the chose the name "Shopville". Then the Shoppies logo shoots out onto a black screen and cuts to the next part.
The Shoppies find some tech stuff and mix it with crepes, magic wands, and more.They put those Shopkins on trays. Then, a storm came and Peppa-Mint pulled the rope and shouted "It's time!". Then, the Shopkins go outside and get electrocuted with the lightning. Then the Shopkins slide off the trays and scream when falling through the walls. Finally, the Shopkins reach their Shoppies.
Later in 2014, the gang went to the grand opening of the Small Mart. 
Trivia
This film is the second movie featuring the Shoppies. The first being Shopkins Chef Club.
This film reveals the Shoppies are not human.
The scene where the Shoppies making the Shopkins is a reference to the 2012 Franken weenie movie.